Des Peres Commercial Locksmiths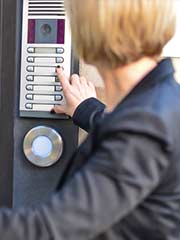 Does your commercial office or retail space still have the original builder locks on the doors? If so, you may be at risk of burglary, or other illegal intrusion. Most builders use cheap quality, door locks on their commercial construction projects. Advice from a qualified commercial locksmith can show you how to upgrade to much better locks without spending a lot of money.
Do you have periodic key employee turnover at your business? If you do, you may need access to regular business locksmith services for semi regular, re-keys on desks, file cabinets, doors, and employee lockers.
Call Us: (314) 667-4906
Business owners everywhere have lots of details to keep track of – sadly; security and safety are often forgotten in the process. Des Peres Locksmith has a sure-fire remedy for this – call us, and let us take care of this for you! Our well-established company has been proudly serving the local area for many years. Our lock technicians are highly trained, and licensed, bonded, and insured for your complete peace of mind. We are well versed in all of the latest and most advanced commercial lock and key technology so that you can get state of the art lock hardware at the very best prices in town. We offer a huge array of commercial locksmith services, all performed right at your location, including:
High-security commercial locks
Safe and vault opening and repair
Business lockout assistance 24/7
Re-keys for business locks
Biometric entry systems
Business lock upgrades
Free consultations
Access control systems
Door closers
Master key systems
Lock-boxes
Panic bars and exit signs
Desk, file cabinet and mailbox locks
Peepholes and deadbolts for commercial use
and many more!
Call Des Peres Locksmith today, and let us tend to your locks, keys and commercial security needs from now on. You'll save money, time and have better business protection, all at the same time.
Call Today: (314) 667-4906